Reminders and Notices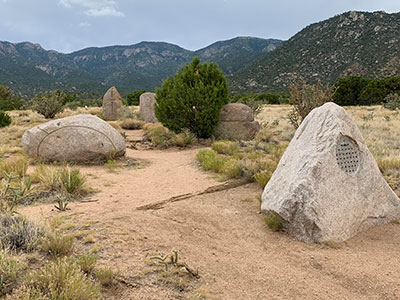 March 29, 2022
ARTICLE
VM Nominating Process
The current Nominating Committee goal is to set up a more transparent and inclusive system for the High Desert homeowners to become Board Members.
We are following the Nominating Committee Charter, including collecting the Statements of Interest from candidates and ensuring they are in compliance. We are available to educate homeowners on Board responsibilities, duties, and time commitments. We will provide a forumm for all candidates to discuss HOA challenges and visions for the future.

If you or a friend want to learn about the Board, please contact Camille Singaraju, Nominating Committee Chair, so we can set up and informal meeting.
Voting Member Nominating, Election Schedule, and Process
For questions and answers about the nomiation process, contact Camille Singaraju at bsingaraju@msn.com or 505-821-6887.
Thursday, April 7, 2022, is the last day to submit a Statement of Interest.
Nominating Committee will request the following information from the candidates:
a. Biography and responses to five questions
b. During the first and second week of April, a Nominating Committee Forum will be scheduled
for each candidate to:
i. Provide information on board members' responsibilities;
ii. Provide the committee an opportunity to ask questions/discuss candidate responses to the questions; and
iii. Finalize the responses in preparation for distribution to the Voting Members.
Saturday, April 16, 2022, distribute each candidate's biography and responses to questions to Voting Members through Google Discussions Group and encourage Voting Members to distribute these to all homeowners.
Saturday, April 23, 2022, 6:00 to 8:00 p.m. open Zoom meeting for homeowners to meet the candidates and ask questions.
Thursday, April 28, 6:30 to 8:30 p.m. Voting Members meeting for Board member elections:
a. Entertain nominations from the floor for additional candidates.
b. Allow nominees from the floor an opportunity to discuss their qualifications and visions for the future (10 minutes each); and
c. Allow prior nominees an opportunity for any further discussions (5 minutes each).
March 17, 2023
NOTICE
Upcoming Board Meeting Will Review High Desert Policies
The Board will be meeting on Tuesday, March 21st at 5:00 p.m. via Zoom. During that meeting, the Board will be reviewing various policies that affect High Desert residents. If you are able to attend, please use this meeting invitation:
Topic: HDROA BOARD OF DIRECTORS MEETING
Join Zoom Meeting
us06web.zoom.us/j/88211062819?pwd=QWQ3dmVqZGpML2ZlUjdBUHJsZlI2Zz09
Meeting ID: 882 1106 2819
Passcode: 430895
One tap mobile
+13462487799,,88211062819# US (Houston)
+14086380968,,88211062819# US (San Jose)

Visit our Reminders and Notices page to review the meeting agenda and all new policy proposals. The policies the Board will review include Delegation of Authority, Enforcement Policiy and Procedure, and Rental Policy and Procedure. Residents can review the existing policies here.
February 16, 2023
NOTICE
Proposed Estate Sale Policy
The previously proposed Estate Sale Policy has been revised to address feedback and will be discussed at the next Board meeting on March 21st. You can read a copy of the proposed policy here.
February 09, 2023
NOTICE
Upcoming Town Hall
Hello High Desert Residents,
The next Town Hall meeting is Thursday, February 16th at 4:00 p.m. via Zoom. If you would like to attend the meeting, please use the link below to register. Once you have registered, a link for the meeting will be sent to you from Zoom. The tentative meeting agenda is posted below. If you have any questions, please reach out to the HOAMCO office at 505-314-5862 or via email at highdesertmanager@hoamco.com
You are invited to a Zoom meeting:
When: Feb 16, 2023 04:00 PM Mountain Time (US and Canada)
Register in advance for this meeting:
us06web.zoom.us/meeting/register/tZIocOisrjwpHddG_Sv91CdFOb3lpQrnmlU3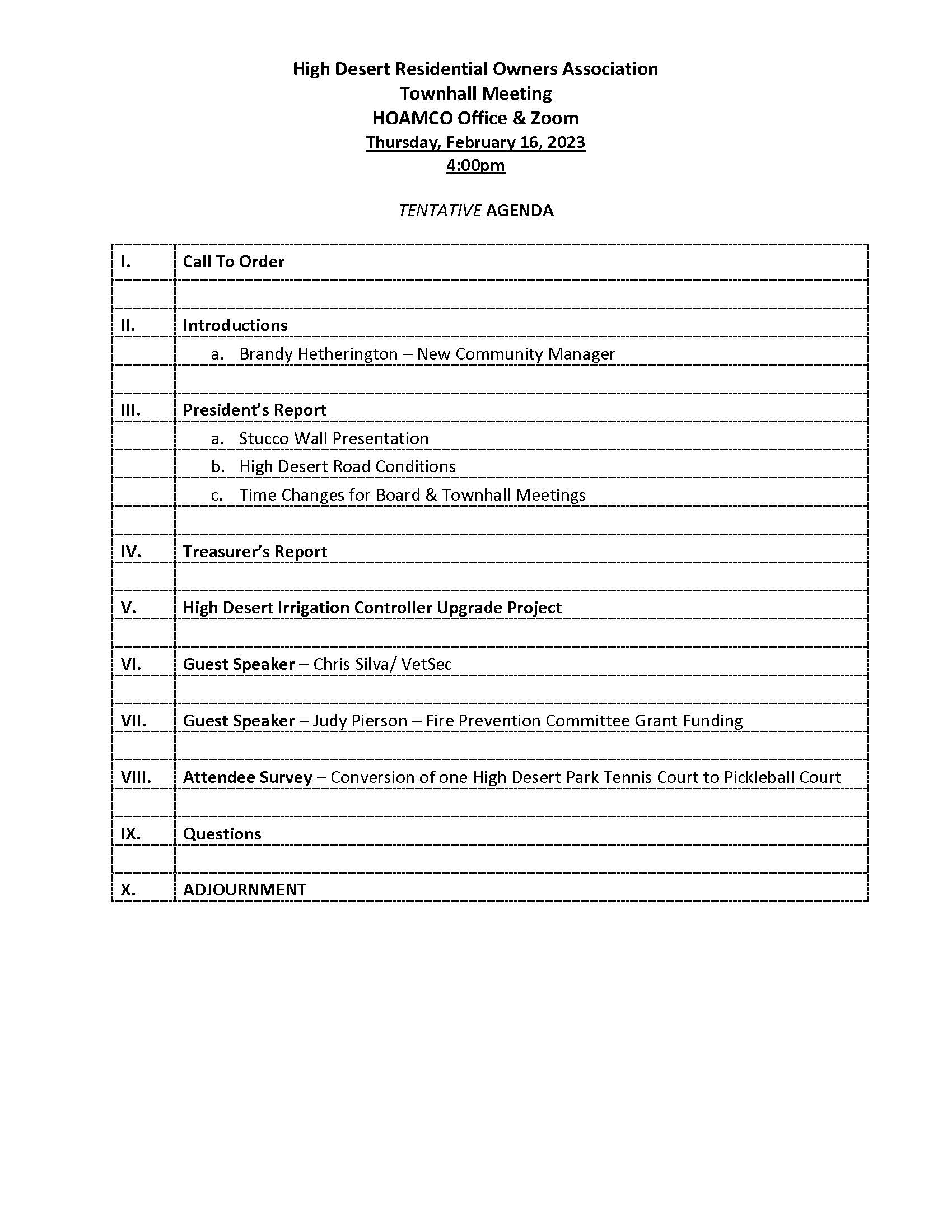 January 06, 2023
NOTICE
Proposed Plants List Ready for Board Approval
The revised version of the Approved and Prohibited Plants List for High Desert will be discussed at the next Board meeting on January 17th. You can read a copy of the proposed plants list here.
September 19, 2022
NOTICE
Thank you, Homepage Photographers!
We owe a big debt of gratitude to the following people for contributing fabulous photographs to our homepage slideshow. They give it life and show us all how beautiful High Desert is. We'll change these pictures as time goes on and new seasons emerge.
Thanks to:
Joseph Coston
Fred Gorenz
Steve Hamm
John Ledwith
Kathryn Lombard-Thomas
Marcos Montoya (via Lynn Alter)
March 18, 2022
ARTICLE
Get "Reverse 911" Emergency Calls to Your Phone!
These automated calls direct from Bernalillo County alert you to wildfires, severe weather, crime, traffic, missing persons, etc.
---