Safety Tips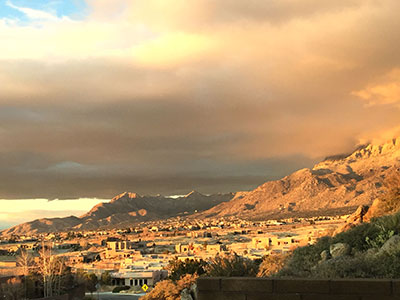 Photo by Bomi Parakh
Safety Contacts
High Desert Security Patrol:
505-485-5658
The High Desert Security Patrol will likely arrive before APD and may observe or assist in managing people and/or vehicles at the perimeter of the scene, but will never undertake any type of police duties.
APD, FIRE & RESCUE EMERGENCY:
CALL 911
APD Non-Emergency Number:
Call 505-242-2677
APD Foothills Substation (Link to Information)
Jeffery Russell Memorial Substation
12800 Lomas NE
505-332-5240
Fire Rescue (Link to Information)
Contact: truiz@cabq.gov
Safety Is Up to You
High Desert is blessed with one of the lowest crime rates in the Albuquerque area, but that can only be maintained through the constant awareness and vigilance of our residents and their willingness to look out for their neighbors.
Non-Emergency that Needs APD Assistance
Residents should call 242-COPS (242-2677)
Then call High Desert Security, 485-5658
Tell High Desert Security Before You Leave for Vacation
Before you leave call High Desert Security Patrol at: 485-5658.
You can fill out a Vacation Watch form on the Online Forms page.
High Desert Security patrol officers will note the information and keep an eye on your home while you are away. Below are the questions that High Desert Security will ask.

Under the current contract between High Desert Security and High Desert, vacation procedures require that G4S completes the following:

1. Take down appropriate Information from resident:
a. Full name
b. Full address
c. Emergency full name and contact numbers
d. Dates resident will be gone on vacation
e. Ask if there will be any gardeners, maintenance crews, or cleaning companies coming
f. Ask if there will be cars in the driveway
g. Ask if there will be any visitors while away. If so, get visitors name and descriptions of vehicle

2. Log Information in the Vacation Log Book used by and reviewed by all security patrol officers.

3. During vacation time, security officers perform the following services:
a. During normal neighborhood patrol, the officer identifies vacation home and verifies that there is no unauthorized vehicles or activity at the residence.
b. Visually verifies that there is no unauthorized entry including open garage doors, broken windows, or any evidence that indicates a break-in of any kind
c. Verifies that no unauthorized vehicles are on the property
---
Out and About? Please Stay Out of the Road or Walk Against Traffic
By Jim Mayo, Solterra
A number of people in our neighborhoods are practicing what they believe is safe distancing during the coronovirus pandemic, but they are violating some basic rules of traffic safety. People, either through gender courtesy or social distancing, are getting off the sidewalk and walking in the bike lane. This appears to be the safe thing to do, but not quite.

Boy Scouts who have passed a hiking requirement know that they are to walk on the side of the road of oncoming traffic so they can see what is ahead of them.
Read More
When walkers are about to meet on the sidewalk, the person who is walking toward traffic should be the one to step into the bike lane. The people walking with the traffic coming behind them cannot possibly see the traffic and they should have the right-of-way on the sidewalk. So gender courtesy should not be involved.

If people see that traffic and people are both coming toward them, they should respond to whomever they believe will arrive first and step aside accordingly. If that is not possible, they should step off the sidewalk and turn their back to the other pedestrians on the sidewalk and wait until they pass.
We should not only practice social distancing but also follow road safety rules.
Guard Against Burglary
Residential burglary rates are generally dictated by the active involvement of individual citizens and cooperative education efforts by neighborhood associations and other community groups. Homeowners who are willing to take certain steps to prevent this type of crime, along with the assistance of local law enforcement, can reduce and sometimes prevent break-ins and burglaries. Consider the following prevention tips as well as ways to retrieve any lost or stolen property.
• Evaluate your existing lighting and pay particular attention to access points such as entry/exit doors and windows. Make sure that each area has adequate illumination so that your neighbors can see any suspicious activity occurring on your property. Consider adding motion sensors to lights in remote areas.

• Each door should be metal or solid core with a deadbolt lock that includes a minimum 1" throw. Short strike plate screws should be replaced with 3-4" screws that secure the plate into the doorframe. Doors should also be equipped with 180-degree eye viewers.

• Trim all bushes and shrubs below the window level and up from the ground. Trim mature trees up to a level 6-8 feet above ground. Eliminate hiding places or areas that allow someone the opportunity to enter through a window without being noticed.

• All primary window locks should be in place and fully operational. Install secondary thumbscrew locks on guide rails. Place them in a location that prohibits the window from being opened more than a few inches. Also, make sure screens are in place and secure. (Note: Windows and pet doors are common illegal entry points.

• Install screws in the upper rail of sliding glass doors. Place them just far enough into the rail to prohibit the door from being lifted and removed. Dowel rods and "charley bars" are secondary methods to secure the door, but make sure the primary locking devise is operational.

• Organize a Neighborhood Watch program for your block by calling the APD Crime Prevention Unit at 924-360

• Operation ID: Record the make, model, serial number, value, and any other distinguishing features of all valuable property in your home. Store this information in a secure location like a safety deposit box, with a trusted friend or family member. A video recording of the items is also recommended. Engrave a number on the back of each item that is significant to you and place the number on your record sheet (Note: Do not use your social security number to eliminate identity theft). Stolen property is often recovered and in the absence of an engraved number, you have no proof the items are yours. The recorded items can also assist with insurance claims.
---
Guard Against Auto Theft
APD recommends the following safety tips:

Auto theft is a problem for all Americans, but the citizens of New Mexico face a particular issue that affects our auto theft rate. Because we are adjacent to an International Border, we are always ranked high on the list for theft rates. Typically, vehicles are stolen for one of four reasons: • joy ride • sell for parts • commit a crime • drive across the border for resale.
More than 2/3 of all auto thefts take place at night (1:00 a.m. and 5:00 a.m.) and over half occur in residential areas. Observe the following tips to reduce the chances of your vehicle from being stolen.

1. Always roll up your windows, lock the doors, and take the key even if you will be away for a short time.

2. Never leave your car running in front of a convenient store or other public area, including in front of your house. Warming up your car in the morning during the winter can make you more vulnerable.

3. Park your vehicle in a garage (if possible) or in an area with adequate lighting and good natural surveillance.

4. If you put your vehicle in for repairs or in a commercial lot, only leave the ignition key.

5. Keep valuables in the trunk or out of site. Don't give a car thief a reason to break in.

6. Purchase stereo equipment and other electronic devices that can be removed.

7. Theft Prevention Device: After years of false alarms, people have stopped paying attention to alarms. Any serious anti-theft device must do more than just make noise. If you want an audio alarm; use it in conjunction with other forms of prevention.

8. A kill switch is a simple toggle device that shuts off the engine's ignition system.

9. Steering wheel locks are visible from outside the car and prevent the steering wheel from being turned more than a few degrees.

10. Collars are devices that prevent the steering column from being stripped.

11. Brake locks prevent the brake from being engaged and therefore the transmission cannot be removed from the park position.

12. Wheel locks prevent the vehicle from being moved in any direction.

13. Etching vehicle parts with your VIN number can also be a deterrent. Professional thieves shy away from vehicles that have had the vehicle identification number (VIN) etched into the doors, windows, windshield, engine block, and other parts.
Guard Against Mail Theft
Cluster mailbox break-ins have increased in Albuquerque with several break-ins recently reported in High Desert. Clay Wright, Secretary of the High Desert Board of Directors, said the U.S. Postal Service is aware of the issue and is considering replacing the cluster boxes with stronger units. However, Clay noted, the process of replacement is time-consuming and expensive and residents should take precautions meanwhile to protect their mail.
Those precautions include putting your mail out as late as possible before pick-up by USPS mail carriers and picking it up as soon as possible after delivery. Other alternatives include choosing to have your mail delivered directly to the Steve Schiff Post Office at 9719 Candelaria Rd NE, Albuquerque, NM 87111; (505) 346-0985.

You may also wish to consider signing up for the U.S. Postal Service's new Informed Delivery™ online service that sends you an e-mail with a scanned graphic of what to expect to find in your mailbox each day. You can learn more and sign up for a free, confidential account on a secure USPS server at: informeddelivery.usps.com/box/pages/intro/start.action

Albuquerque Police Department's Crime Prevention Specialist issued two documents to neighborhoods concerned with mail theft. One of the documents deals with mail theft of tax documents as people begin filing tax returns and anticipating refunds through the mail. The advice is to file taxes online, dropp off documents at a secure receptacle or site, and pick up mail daily as early as possible at a cluster box.

Also, advise the Post Office if you'll be out of town. Here's a link: usps.com/manage/hold-mail.htm

Alternatively, ask a trusted neighbor to pick up your mail daily.
Guard Against CarJacking
Carjacking is an easy way to steal vehicles, especially newer model large luxury cars and SUVs that have alarms and state-of-the-art anti-theft devices. As with any crime, criminals are looking for the path of least resistance. Avoid being a victim of this type of crime by observing the following tips:
1. Always drive with windows rolled up and doors locked

2. Be aware of your surroundings when stopped at a traffic signal, parking lot, gas station, etc

3. When stopped at a signal, leave space in front of you to allow for evasive action and be prepared to carefully drive away

4. Take note of people approaching your vehicle for any reason

5. Prior to entering your car – if someone is loitering near the area, keep walking and seek help

6. Be alert at a drive-up ATM

7. If all else fails – don't resist

The goal in preventing auto theft is to establish multiple layers of protection for your vehicle. Thieves lool for the path of least resistance. No method is foolproof, but consider where you park, theft prevention devices, and etching. Remember, anti-theft devices don't lock up and activate the anti-theft device. You do.
Be a Good Witness
While our crime rate in High Desert is relatively low, you may witness a crime in progress or return home to find that a crime has been committed there while you were away. Knowing how to be a good witness and report a crime will help our city's law enforcement officers respond promptly and appropriately to your needs.
1. The first and most important step in being a good witness is to keep yourself safe from harm. Before calling the police, move or drive to a safe place. Do not attempt to stop or control a suspect. Do not enter you house if you return home and see that it has been broken into.

2. Note the address or location of the incident by street intersection or landmark.

3. Note the number of persons involved.

4. Describe the people involved:

What is their gender and race?
How old do you think they are?
How tall and what weight or build?
What are their hair, eye and skin color?
Do they have sideburns, a mustache, beard or distinct eyebrows?
Are there any distinguishing marks, tattoos, scars or noticeable injuries?
What kind of clothes (head to toe) are they wearing?
Are they wearing eyeglasses or sunglasses?
Are there any other unusual features?

5. Describe the vehicle:
Note the license plate numbers, letters, words, color and state.
Identify the type of vehicle (auto, mini-van, SUV, pickup, motorcycle, etc.). Describe the color, make and model of the vehicle (Chevrolet, Ford, Toyota, etc.; Camry, Malibu, F-150, etc.).
Is it a two or four-door vehicle?
Note the number and type of occupants.
Is the car old or new?
Are there any distinguishing features (scratches, dents, decorations, missing lights)?
What direction was it traveling?
How to Report a Crime
How should you go about reporting a crime or suspected criminal activity to the police and High Desert Security?

There are two types of situations which require reporting: emergencies and non-emergencies.

Emergencies? Immediately Call 911!

An emergency call is defined as a situation where a person's life or property is in danger or threatened.

"In-progress calls" is the term used by police when crimes are being committed at the time of your report.

All emergency calls are made first to 911 and then to High Desert Security, our local High Desert patrol, by calling 485-5658.
Some Examples of Emergency Calls:
1. Accident with injuries, rape, attempted suicide, shooting and stabbings
2. Strangers forcibly entering neighbor's house or car
3. Strangers carrying household articles from neighbor's house
4. Fire calls
5. Person injured or bleeding
6. Someone trying to gain entrance to your home. DO NOT ATTEMPT TO STOP THEM YOURSELF.
If your house is broken into while you were gone, do not enter the house!

When you call 911 for a police, fire or medical emergency, be prepared to provide much of the information noted in the list of details under "Be a Good Witness," as well as your name, address and telephone number.

Non-Emergency Calls To Albuquerque Police Department: Call 242-COPS(2677)
A non-emergency call is a situation where a person's life and or property is not in immediate danger, but a police officer is needed to respond to investigate and take a report.

Some Examples of Emergency Calls:
1. Smashed doors or windows in unoccupied homes or stores
2. Abandoned car on the street
3. Someone finding a large sum of money and offering to share it or offering merchandise at unusually low prices
4. Persons loitering near a school
5. Information and rumors of impending crimes
6. Police assistance or medical transportation in a non-emergency.

For these calls, dial 242-COPS (2677). If a police report is needed and an officer is not required at the scene, you may make a police report over the phone.

Click to file an Online Police Report.
Telephone Reporting Unit: 505-768-2030
---