New to High Desert?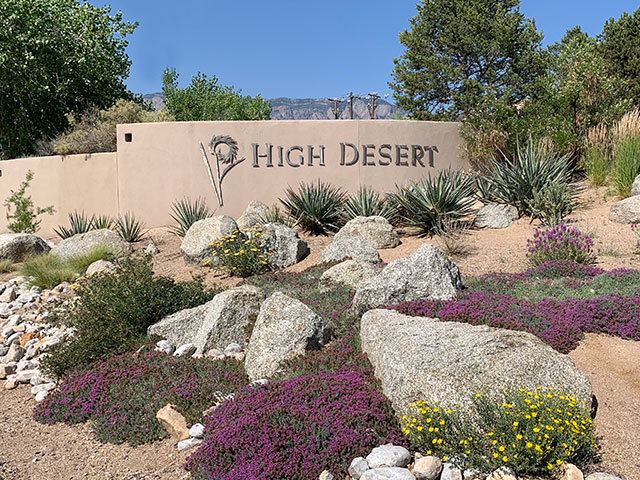 Welcome to High Desert
Your new home is in New Mexico's first master-planned, sustainable community in the foothills of our exquisite Sandia Mountains and the Cibola National Forest.
Here you'll find blue skies and sunny smiles as well as new responsibilities as a homeowner or renter, which you may not have encountered before. All are designed to ensure that our homes continue to grow in value and enjoyment, and they're detailed on this website.
Beyond our fabulous views, High Desert offers miles of walking trails, High Desert Park with tennis courts, pocket parks and more. Explore them on foot and on this site. Look around!
Read More
Communications
Your homeowners association (HDROA) sends out our quarterly newsletter, the Apache Plume. Our website is packed with community information and governing documents. Also, please give your village Voting Member or Alternate your contact information to be used in cases of an emergency - snow removal, road & gate repairs, things that affect us all.
Financial Management:
An annual financial report is sent to all homeowners. Dues, established by the Board, are payable quarterly, by check or auto-debit.
Garage & Estate Sales
Governing documents prohibit residents from having a garage sale, moving sale, rummage sale or similar activity within High Desert. If you're caught, you have 1 hour to remove evidence of the event or get a $100 fine without further notice.
Read More
Estate sales are permitted but no signs may be placed in yards or on streets advertising the sale at any time. All parking must be legal. Items for sale may not be placed outside the residence or displayed in opened garages.
Homeowners will receive an infraction notice. After 14 days you must comply or the association will begin a process that ends with you being fined.
Modifying Your Property
Some home repairs and improvements—especially exterior alterations—require review and approval by the High Desert Modifications Committee. Examples include additions (extra rooms, patio covers, etc.), replacement of your roof, stucco, windows, driveways and sidewalks, changes to exterior block walls and major changes to landscaping.
Keep in mind that plants visible by neighbors must also be on the Approved Plant List pdf.
Other Design Features:
Read More
Here are some guidelines for certain minor changes to your property:
• Basketball Backboards may be installed after approval from the Modifications Committee. The privacy of adjacent lots, color, obtrusiveness of its location and screening by landscaping are considered.
• Antennas and Satellite Dishes must be located in places that minimize visibility from neighboring lots, common areas or the street.
• Awnings are not allowed.
Flagpoles with decorative flags, balloons, beacons or banners are not permitted except as approved by the Modifications Committee or Board for special events.
Renting or Selling Your Home
If you plan to rent or sell your home, please be aware of the following policy highlights:
Renting Your Home:
You may rent your property for no less than 6 months at a time unless an exception is approved in advance by the Board. Short term rentals are prohibited.
Only one approved "For Rent" sign may be placed in front of your home.
Read More
A copy of a written rental agreement between you and your tenant must be provided to HOAMCO, together with the Tenant Information Sheet. Really Important! During the rental period, you are responsible for the actions of your tenants and their compliance with all policies. Language to this effect must be included in the rental agreement. Be sure to give your tenant a copy of this booklet to help them comply with our policies on your behalf. Non-compliance will result in a series of penalties.
Selling Your Home:
Only one approved "For Sale" sign may be placed in the front yard of your home. "Sale Pending" and "Sold" signs must be removed no later than 5 days following the close of sale, or 30 days from the date of posting, whichever occurs first.
---