New Construction Committee (NCC)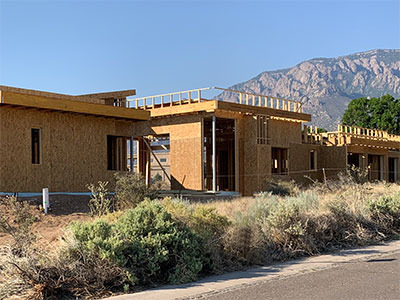 About the NCC
The NCC is charged with making sure all new development meets High Desert architectural and design standards. The goal is to preserve the aesthetic character and value of our community. This is done by following the High Desert Guidelines for Sustainability developed for each of the villages. In order to ensure that new homes are built according to High Desert standards and meet certain governmental requirements, the Association requires a construction deposit of $8,000 for Estate and Premier Lots and $4,000 for Builder Lots. The balance is refunded, less fees, after final NCC approval.
Read More
Those proposing new home construction must start the process by contacting the High Desert Community Association Manager at highdesertNCC@hoamco.com at the HDROA office, 10555 Montgomery Blvd. NE, Building 1, Suite 100, 505-314-5862. The office will provide you with the starting point for your project. The committee encourages owners and builders to schedule a preliminary meeting with the committee to discuss the construction project; review the Guidelines for Sustainability and Supplemental Village Guidelines; and discuss requirements before starting a project.
NCC Form 2 - Plan Review Application
Provides detailed information regarding construction plan requirements. Also includes a contact information sheet to be filled out and provided to the NCC for administration purposes.
NCC Form 2b - Construction Fee Description and Explanation
NCC Form 3a - Construction Plan Review Checklist for Builder Homes
This form is used by the NCC to evaluate construction plans to ensure compliance with the Guidelines for Sustainability (Guidelines). Form 3b is for Premier and Estate homes. The base documents for developing the checklists are the appropriate Guidelines.
NCC Form 5a - Construction Regulations for Builder Villages
Form 5a provides the regulations owners and builders must follow to construct a new home in High Desert. The owner and builder are required to sign the appropriate document before construction can commence. Form 5a is for Builder Villages.
NNC Form 5c - Construction Regulations for Home Modifications & Additions
NCC Form 6 - Reseeding Deferral
Provides a deferral for reseeding with a specific time requirement. Page 41 of the Premier and Estate Guidelines states that "The re-vegetation must occur during the first growing season after or during completion of the home. The Construction Deposit will not be refunded until this has been accomplished."
NCC Form 7 - AMAFCA Encroachment Agreement
An agreement between the Association and a property owner to construct or maintain an encroachment on an easement.
Process Flow Chart
This process flow chart is intended to help the new owner understand the review and approval sequence of events during construction from 'Concept' to 'Final Inspection' and how the New Construction Committee interacts with the owner.
NCC Form 1 - First Contact
Provides first contact information for the prospective owner to review and requests that the owner provides sketch information to the NCC before drafting plans.
---