Welcome to High Desert Living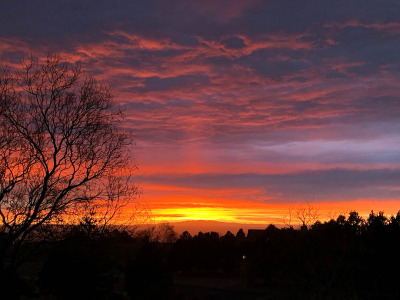 Latest COVID-19 Information
Please continue to monitor the news, this website, The office of Neighborhood Coordination, NewMexico.gov and cabq.gov and cv.nmhealth.org
Reminders and Notices
August 05, 2020
NOTICE
Voting Members Informed by Board that Vote to Change Bylaws Failed
Voting Members learned at their quarterly meeting January 23 that the Board declared the recent vote by Voting Members to amend the bylaws as "officially failed." Voting members were asked to approve changes to the by-laws to meet state law. They were also given the option to individually accept or reject two optional provisions. Clay Wright, Board president, told Voting Members that 43.9 percent voted in favor of the change and 37.1 percent against. Since High Desert bylaws can only be changed by a 75 percent vote in favor, the change to the bylaws failed. "At this time, the Board has no plans to conduct another vote," he said, citing the expense and time to mail ballots, collect and tally the votes.
Read More
The Board proposed one optional change to allow quicker revisions to bylaws without going through the process of a full vote each time the state passed a change that did not agree with the High Desert bylaws. The association is, according to its own bylaws, required to abide by state law. Allowing the Board to pass changes bringing the association and its bylaws into compliance with state law would streamline the process, Board members felt. The Board would not be permitted to change the bylaws for any other reason except to bring the association into compliance with state law.
"The Board will continue to follow state-mandated changes to the bylaws," Clay told Voting Members. "As a result, our governing documents will remain in conflict with state law." One of the changes that are in conflict with the law involves state-required notification to homeowners when a policy change is under consideration by the Board. "We are publishing notification online right now even though it is not required under our current bylaws," Clay said. The state also requires open Board meetings which are not required in the bylaws. Board meetings are currently open, Clay told Voting Members. Violations notifications should be 14 days, according to state law. High Desert, which used to give 30 and then 10 days notification, now gives 14 days notification.
Voting Members asked if there were any consequences to High Desert if the bylaws remain unchanged. Clay said as long as the association follows state law anyway, there will probably be no official problem, but he could not guarantee that.
"Why does the state want to be involved with our governing documents?" asked one homeowner. Clay responded, saying, "The state wants some control over what homeowner associations do. They don't want us overburdening residents with overly restrictive rules on dog walking, grass growing and parking. That's their rationale."
Another Voting Member asked if another vote could be taken, saying the ballots came during the holidays and were too easily put on the back burner. Clay said the board had no plans to have another vote.

Financial Report
Board Treasurer Tom Murdock presented the financial report to Voting Members saying he was currently working on the fiscal year 2020-2021 High Desert budget. He will be holding two meetings for homeowners in Gated Villages to garner input about their village's budget needs. "This is your opportunity to have real input," he said. Homeowners will be notified of their gated villages meeting date. The final budget will be approved or denied by Voting Members at their April 23 Annual Meeting. A final budget will be mailed to all homeowners in early May. Following his presentation a Voting Member spoke, commending Tom for his association work. Voting Members applauded.

Annual Meeting
Neil Wetsch, Board Director, and Nominating Committee Chair, asked Voting Members to consider running for the four open positions on the Board of Directors. Statements of Interest must be submitted to the Nominating Committee by February 14. (Click here to fill out an online version.) Interviews by Committee members of homeowners interested in election will be conducted in March and April, he said. A slate of four nominees will be presented to Voting Members at the Annual Meeting. Nominations can also be made from the floor. Any homeowner in good standing can run for election.

Wildland Fire Prevention Working Group Update
Camille Singaraju, High Desert homeowner and chair of the Wildland Fire Prevention Working Group, spoke to Voting Members about its recent activities. The group was formed last year in response to several recent fires in High Desert. The group is working closely with Albuquerque Fire Rescue to identify areas of High Desert that pose increased threat of destruction by fire through excessive brush, weeds and deadfall. Camille asked Voting Members to make sure their represented homeowners all have evacuation plans if a fast-moving wildfire begins. "Also," she added, "if there is a fire somewhere in High Desert, please don't drive up to see it. Your car will block the bigger trucks that come in to fight the fire." Homeowners should clear excessive growth three to five feet away from their home's walls. "We'd like to extend it out to 10 feet," she said. "And we are looking at different ways to manage growth in the arroyos."

Added Clay, "Look after yourselves. Have a plan. If there is an issue, fire services will be taxed. You must take care of yourself. If you don't want a fire in your backyard, don't leave stuff around to burn. Don't store firewood up against your house. Don't leave gasoline stored in your garage." He also encouraged homeowners to contact their legislators to purchase another brush truck for Albuquerque Fire Rescue. The trucks cost $185,000 each.

Communications Group
Homeowner Russ Rhodes told Voting Members that he recently spoke with the Board and different Voting Members about forming a smaller co-group of four or five homeowners to discuss pertinent issues and resolve differences. He said he first considered forming the group when he observed "increasing tensions and anxiety" between Voting Members and Board Directors. "We want to get any tensions out of the way and get a good conversation started between the two groups," he said. He said the initial group will be made up of Board Directors Dave Williams and Robin Troy, and Voting Members Harrison Jones, The Trillium, and Eric Frow, The Legends. Responded one Voting Member, "Great idea! We do need more discussion." Voting Members did not vote on the proposal but did offer general agreement
News & Articles
September 16, 2020
ARTICLE
Welcome to the New High Desert Website!
Although the previous website served our community well for many years, new technology and changing needs called for a complete redesign. It took months of behind-the-scenes efforts from volunteers to produce the fully responsive new website (viewable from computer and mobile devices too). But we believe it will become a tool that is increasingly used by residents for finding out what's happening around our community and locating vital information.
Let's take a little tour.
Read More
Throughout the new website you'll see current news and informational articles, all complemented by beautiful photographs of nature and recreational activities around High Desert. At the top of the Home page, there's a menu of six key categories: High Desert Living; Villages; Documents and Forms; News; Contacts; Login (only for management and voting members). Each category, if clicked on, leads to a page with more subcategory options. Or you can glide down the drop-down menus that help you select a desired subcategory directly.
High Desert Living has information and images related to our community and its natural setting, including articles on history, residents' photographs, even advice about gardening and the plants native to our part of the country. But there is also an exciting new category called, "New to High Desert." There, new residents will be able to find answers to the numerous questions that arise when entering a community that has a residential owners association and accompanying rules and regulations.
The new Villages category lets you quickly find information pertaining directly to your gated or non-gated village. Each village's page even lists the names and contact information of current voting members.
The Documents and Forms section is especially useful because it offers us access to all of the official, current documents of the High Desert Residential Owners Association. It also has a really practical new feature: fillable pdf forms plus online forms you don't need to download. Whether you want to complete a Vacation Watch Request or want to fill out a Statement of Interest form for volunteers, just select Online Forms and you can find, fill out and submit a form online, knowing that it will be received by the appropriate person.
The News section offers residents access to recent postings, notices, the calendar of events and issues of the Apache Plume, High Desert's quarterly newsletter. The Contact section makes it quick and easy to learn how to contact HOAMCO (our management company) and Board and voting members, let alone find essential emergency and security contacts.
Another feature of note on the new website is the "Read More." This options keeps the site from looking text heavy, but also lets you quickly access additional information for any given notice or article.
Finally, at the bottom of each page are links to the most needed documentation and forms, making access even faster.
This website belongs to all of us here in High Desert. We encourage you to tour the site, test the search feature and consider how you might contribute to our community and to the website. We believe the site can be an excellent way to strengthen our community connections. One way it can do that is by suggesting Volunteer Opportunities (under High Desert Living). Another way is by sharing photographs of life around High Desert (Photo Gallery under High Desert Living). We encourage you to submit photographs as well as articles, and we look forward to seeing and hearing about what you're experiencing in High Desert.
Like any good website, this one will continually evolve. With this in mind, feel free to submit feedback to our Communications Chair Janet Brierley: communicationscommittee@hoamco.com