Welcome to High Desert Living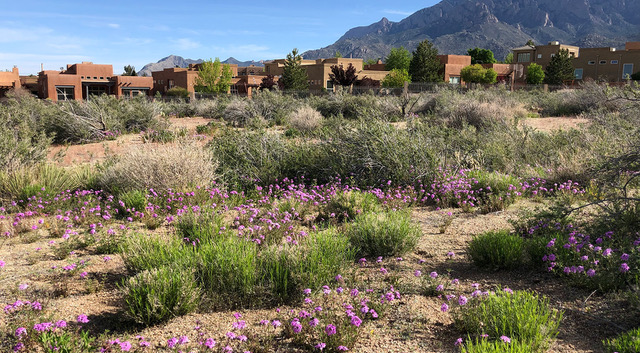 Latest COVID-19 Information
Please continue to monitor the news, this website, The office of Neighborhood Coordination, NewMexico.gov and cabq.gov and cv.nmhealth.org
To streamline the homepage, we have moved our longer articles to a new page called News and Articles. We will reserve the homepage for posting timely and important reminders and notices.
Reminders and Notices
May 31, 2023
NOTICE
Proposed Committee
At the June Board meeting (6/20, 5pm on Zoom), the Board will discuss a charter for a proposed committee that would provide recommendations to the Board of Directors regarding the governing documents and policies of High Desert Residential Owners Association (HDROA). See the document here.
May 22, 2023
NOTICE
Housing Forward ABQ
The Albuquerque City Council is meeting on June 5th at 5pm to consider zoning changes that would allow additional dwelling units in residential areas throughout Albuquerque. Those additional dwelling units would be prohibited by the High Desert covenants, but our High Desert HOA would have to enforce any violations through litigation, rather than relying on city zoning enforcement. The High Desert Board encourages all High Desert residents to read the proposed ordinance and share any concerns either at the council meeting or with their city councilor, Trudy Jones. Below are links to the proposed ordinance, to meeting schedules/location for the council meeting, and for contacting Trudy Jones:
May 13, 2023
NOTICE
Board Meeting This Week
The Board will be meting on Tuesday, May 16th at 5:00 via Zoom. Residents can register to attend the meeting with the following information:
Join Zoom Meeting
us06web.zoom.us/j/88211062819?pwd=QWQ3dmVqZGpML2ZlUjdBUHJsZlI2Zz09
Meeting ID: 882 1106 2819
Passcode: 430895
One tap mobile
+13462487799,,88211062819# US (Houston)
+14086380968,,88211062819# US (San Jose)
See the Board's agenda for the meeting here.
May 01, 2023
NOTICE
Board to Select Officers
The new Board of Directors will meet on Wednesday, May 3rd to select officers. The meeting will be from 10:00 a.m. until 1:00 p.m.
April 28, 2023
NOTICE
Voting Results
The High Desert Residential Owners Association would like to congratulate the following candidates who were elected to the Board of Directors on April 27th:
Steve Hartig
Harrison Jones
George Marsh
Camille Singaraju
Many thanks to all of the Voting Members who attended the meeting last night to elect your new Board.
April 26, 2023
NOTICE
Upcoming Fire Preparedness Event!
On Friday, May 19
th
from 10-2 pm, the Fire Preparedness Committee and Albuquerque Fire Rescue (AFR) will be holding an event at the city park on Academy in High Desert. AFR has promised to bring all six fire trucks and showcase their capacity to handle a wildfire in our community. Also, we will showcase goatscaping in a section of the Academy arroyo west of Cortaderia with the chance to pet a goat and talk to residents who have used goats on their properties. The event is sponsored by a grant from the Fire Adapted Communities organization.
Please walk to the park if you are able because of limited parking in the city park's parking lot!
We need volunteers
to work at the signup table and help with a drawing for REI gift cards. Also, we need volunteers (from those who have used goats) to mingle around the goats and answer residents' questions. Please call or Judy Pierson: 505-220-9193
judy@judypierson.com
April 19, 2023
NOTICE
Annual Meeting
The High Desert annual meeting will occur on Thursday, April 27th from 6:30 to 8:30 p.m via Zoom. Residents will receive more information by email. In the meantime, you can review six documents that pertain to the upcoming annual meeting here.
April 16, 2023
NOTICE
Meet and Greet Board Candidates
Come get to know the 2023 Board of Director candidates on April 22, either live or by Zoom. For the first time you'll have an opportunity to participate in a hybrid Zoom/in-person meeting. Hear the candidates speak on their priorities for High Desert and where they see the future of our community heading. Ask them questions, meet your neighbors, and win a raffle prize! Refreshments and social time will held at the Church of the Good Shepherd (7834 Tennyson Street NE) at 5:00 p.m., followed by the Meet and Greet at 6:00 p.m. Please RSVP to the High Desert Office at highdesertmanager@hoamco.com by noon on April 21st. Or register to participate through Zoom at:
us06web.zoom.us/meeting/register/tZEude2grzMoHdH_N3iqRK9l99qBWEUePq6k
Election of Board candidates will occur by Zoom only at the Annual Meeting, April 27, 6:30-8:30 p.m.