Welcome to High Desert Living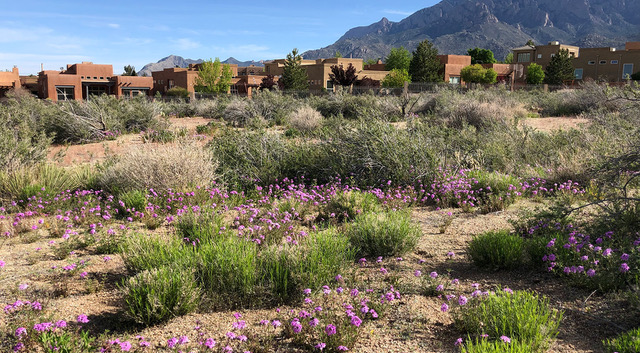 Latest COVID-19 Information
Please continue to monitor the news, this website, The office of Neighborhood Coordination, NewMexico.gov and cabq.gov and cv.nmhealth.org
September 22, 2022
ARTICLE
NE Albuquerque Public Safety Town Hall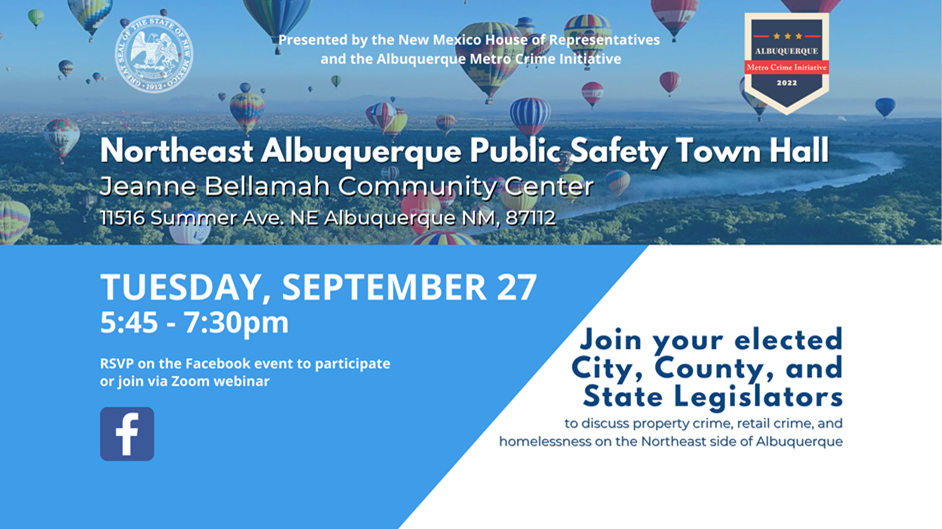 Dear Northeast Albuquerque friends and neighbors,
Thank you for all of your civic engagement – your perspective and concerns are greatly appreciated. To continue the conversation, I'd like to invite you to participate in the Northeast Albuquerque Public Safety Town Hall, taking place at the Jeanne Bellamah Community Center.
From 5:45 to 7:30pm
Your elected city, county, and state legislators from Northeast Albuquerque will be joined by public safety experts from all levels of government and nonprofit organizations for small group discussions on addressing property crime, retail crime, and homelessness.
If you can't make it in person, you view the town hall by registering for the Zoom meeting here: us06web.zoom.us/meeting/register/tZEqc-6sqDopHNHPXiDtWeIxm8iPQY1Pv8Nq
Reminders and Notices
September 19, 2022
NOTICE
Thank you, Homepage Photographers!
We owe a big debt of gratitude to the following people for contributing fabulous photographs to our homepage slideshow. They give it life and show us all how beautiful High Desert is. We'll change these pictures as time goes on and new seasons emerge.
Thanks to:
Joseph Coston
Fred Gorenz
John Ledwith
Kathryn Lombard-Thomas
Marcos Montoya (via Lynn Alter)
Larry Reese
July 29, 2021
NOTICE
Attend Albuquerque City Council Meetings Remotely
Albuquerque residents can attend government meetings remotely, including Albuquerque City Council meetings, on GOV-TV by clicking on this link: www.cabq.gov/culturalservices/govtv
GOV TV is the local government television channel for Albuquerque and Bernalillo County. GOV TV provides real-time streaming video of local government programming 24 hours a day. Programming includes live coverage of government meetings, recorded news conferences, and a wide variety of locally produced TV shows about public services, facilities, employees, officials, and events.
News & Articles
September 21, 2022
ARTICLE
By Michele Lesher
Upcoming Tramway Cleanup!
I hope you are well and looking forward to some cooler weather!
I would like to have a Tramway Cleanup day on Saturday, October 15th. That is the weekend after Balloon Fiesta, so I think it would be a great date. I have confirmed with NMDOT their availability to pick up what we collect on this date.

We will start at 10:00 a.m. by meeting in the Albertson's parking lot. If you will be able to make it, please let me know in advance so I bring enough supplies. Please bring your own pair of gloves (and hat/sunscreen if you'd like). I will have the bags and stylish orange vests for everyone! You will be doing a great favor for awesome Tramway Blvd, which has the beautiful Sandias as its backdrop!
Please share this information with anyone you think might be interested in participating.
Tramway Cleanup Committee Chair and NM 556 Miles 9-10 Adopt-a-Highway Lead
March 29, 2022
ARTICLE
VM Nominating Process
The current Nominating Committee goal is to set up a more transparent and inclusive system for the High Desert homeowners to become Board Members.
We are following the Nominating Committee Charter, including collecting the Statements of Interest from candidates and ensuring they are in compliance. We are available to educate homeowners on Board responsibilities, duties, and time commitments. We will provide a forumm for all candidates to discuss HOA challenges and visions for the future.

If you or a friend want to learn about the Board, please contact Camille Singaraju, Nominating Committee Chair, so we can set up and informal meeting.
Voting Member Nominating, Election Schedule, and Process
For questions and answers about the nomiation process, contact Camille Singaraju at bsingaraju@msn.com or 505-821-6887.
Thursday, April 7, 2022, is the last day to submit a Statement of Interest.
Nominating Committee will request the following information from the candidates:
a. Biography and responses to five questions
b. During the first and second week of April, a Nominating Committee Forum will be scheduled
for each candidate to:
i. Provide information on board members' responsibilities;
ii. Provide the committee an opportunity to ask questions/discuss candidate responses to the questions; and
iii. Finalize the responses in preparation for distribution to the Voting Members.
Saturday, April 16, 2022, distribute each candidate's biography and responses to questions to Voting Members through Google Discussions Group and encourage Voting Members to distribute these to all homeowners.
Saturday, April 23, 2022, 6:00 to 8:00 p.m. open Zoom meeting for homeowners to meet the candidates and ask questions.
Thursday, April 28, 6:30 to 8:30 p.m. Voting Members meeting for Board member elections:
a. Entertain nominations from the floor for additional candidates.
b. Allow nominees from the floor an opportunity to discuss their qualifications and visions for the future (10 minutes each); and
c. Allow prior nominees an opportunity for any further discussions (5 minutes each).
March 18, 2022
ARTICLE
Get "Reverse 911" Emergency Calls to Your Phone!
These automated calls direct from Bernalillo County alert you to wildfires, severe weather, crime, traffic, missing persons, etc.
October 05, 2021
ANNOUNCEMENT
Global Announcement
Upcoming Town Hall
Please attend the next Town Hall
via Zoom on October 20th at 4:00 p.m.