Reminders and Notices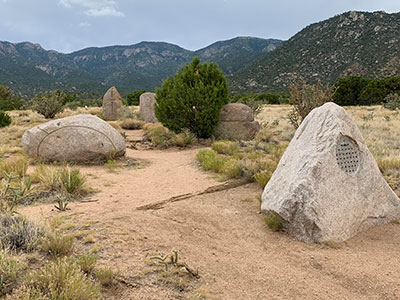 November 01, 2022
ARTICLE
Efficient Irrigation Presentation
Hello, High Desert Residents,
Smart Use (water authority) will be hosting a Zoom presentation to promote the use of native plants and low water use on Wednesday, November 16th from 12:30-2:30. If you wish to attend, please use the registration information below:
Topic: Smart Use Presentation
Time: Nov 16, 2022 12:30 PM Mountain Time (US and Canada
Join Zoom Meeting
us06web.zoom.us/j/89347993438?pwd=akpSNlp6bm5ycWFLZkdMUVViWGhyQT09
Meeting ID: 893 4799 3438
Passcode: 601947
One tap mobile
Dial by your location
+1 309 205 3325 US
Meeting ID: 893 4799 3438
Find your local number: us06web.zoom.us/u/k9WJNI5OY
November 03, 2022
NOTICE
HOAMCO Holiday Hours!
The HOAMCO offices will be closed several days during the week of Thanksgiving. Please note that the office is closed Wednesday, November 23rd through Friday, November 25th.
October 25, 2022
ARTICLE
2022 High Desert Studio Tour
October 24, 2022
ARTICLE
By Michele Lesher
Successful Adopt-a-Highway Cleanup!
This year's monsoons must have brought the NMDOT mowers to the Tramway median early! The good news is that the short grass uncovered more trash-treasures than I could have imagined; the bad news was that some of those trash-treasures were shredded into pieces that took a bit more effort to clean up! That didn't stop eleven High Desert residents from doing an amazing job on October 15th for our bi-annual Adopt-a-Highway Cleanup of miles 9 and 10. The weather was beautiful, the trash was plentiful, and fun was had by all! A passing cyclist even gave one of our crew an O'Beans gift card (I randomly selected one of our volunteers to receive it) to thank our group for our time.
We started at Albertson's, with half of the volunteers working south from Academy to the bridge at Bear Canyon, and the other half working north to the bridge at Simms Park Road. We accumulated 29 full bags of trash and a large amount of cardboard, rebar, carpet, and other construction materials. The next day was rainy and extremely windy, and some of our bags decided to do a runner to avoid the NMDOT pickup. But I captured all of the escaped bags and cardboard so that our efforts would not be wasted!!
If you see one of your neighbors on this list, please join me in thanking them for their efforts:
Dan Kropp, Lauren Krimsky (Canyons)
Jim DeBlois (Tierra del Oso)
Charlotte and Jadyn Trone (Desert Mountain)
Bob and Kitty Lind (Chaco Compound)
Krisan Smith (Mountain Highlands)
Susan Camp (Desert Highlands)
Duane Sorenson (Pinon Point)
Peter Gilmour (Solterra)
To keep our adoption active, we are committed to holding a formal event twice per year. I am thinking our next cleanup will be sometime in April 2023. If you are interested in volunteering, please drop me an email at mlesher222@comcast.net and I will add you to my list!

Michele Lesher
September 19, 2022
NOTICE
Thank you, Homepage Photographers!
We owe a big debt of gratitude to the following people for contributing fabulous photographs to our homepage slideshow. They give it life and show us all how beautiful High Desert is. We'll change these pictures as time goes on and new seasons emerge.
Thanks to:
Joseph Coston
Fred Gorenz
John Ledwith
Kathryn Lombard-Thomas
Marcos Montoya (via Lynn Alter)
Larry Reese
March 29, 2022
ARTICLE
VM Nominating Process
The current Nominating Committee goal is to set up a more transparent and inclusive system for the High Desert homeowners to become Board Members.
We are following the Nominating Committee Charter, including collecting the Statements of Interest from candidates and ensuring they are in compliance. We are available to educate homeowners on Board responsibilities, duties, and time commitments. We will provide a forumm for all candidates to discuss HOA challenges and visions for the future.

If you or a friend want to learn about the Board, please contact Camille Singaraju, Nominating Committee Chair, so we can set up and informal meeting.
Voting Member Nominating, Election Schedule, and Process
For questions and answers about the nomiation process, contact Camille Singaraju at bsingaraju@msn.com or 505-821-6887.
Thursday, April 7, 2022, is the last day to submit a Statement of Interest.
Nominating Committee will request the following information from the candidates:
a. Biography and responses to five questions
b. During the first and second week of April, a Nominating Committee Forum will be scheduled
for each candidate to:
i. Provide information on board members' responsibilities;
ii. Provide the committee an opportunity to ask questions/discuss candidate responses to the questions; and
iii. Finalize the responses in preparation for distribution to the Voting Members.
Saturday, April 16, 2022, distribute each candidate's biography and responses to questions to Voting Members through Google Discussions Group and encourage Voting Members to distribute these to all homeowners.
Saturday, April 23, 2022, 6:00 to 8:00 p.m. open Zoom meeting for homeowners to meet the candidates and ask questions.
Thursday, April 28, 6:30 to 8:30 p.m. Voting Members meeting for Board member elections:
a. Entertain nominations from the floor for additional candidates.
b. Allow nominees from the floor an opportunity to discuss their qualifications and visions for the future (10 minutes each); and
c. Allow prior nominees an opportunity for any further discussions (5 minutes each).
March 18, 2022
ARTICLE
Get "Reverse 911" Emergency Calls to Your Phone!
These automated calls direct from Bernalillo County alert you to wildfires, severe weather, crime, traffic, missing persons, etc.
---