Recent Postings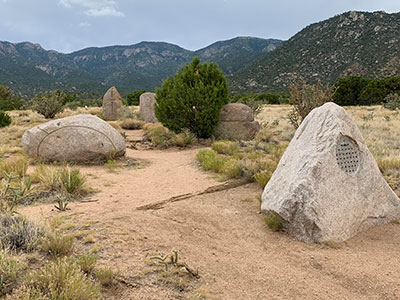 August 18, 2021
ARTICLE
By Rebecca Murphy, Apache Plume Editor
A Tribute to Tom Murdock
Tom Murdock, who spent 16 years in continuous service on the High Desert Board of Directors and who devoted countless hours to the association as a volunteer since 2000, died July 27 following a fall at his home in Solterra.

"Tom was first elected to the Board in 2004 along with Ray Berg and me," said Jay Hartfield. "He was then re-elected seven more times for a total of 16 years of continuous Board service. Nobody else even comes close."

Tom began volunteering in 2000 as a Voting Member shortly after moving to High Desert with his wife Margo (a gardening columnist for the Apache Plume) from Houston, Texas. He went on to be elected to the first entirely homeowner-controlled High Desert Board of Directors in 2004, where he was elected Treasurer. Tom served as Treasurer for six years, as Vice President for two years and as President of the Board for eight years. Throughout that time he continued to operate his software company, Spring Lake Software, from his home.

If there was a High Desert special event in the park, a Welcome Committee Wine and Cheese party, a Run for the Hills race event, a quarterly Voting Member meeting or Board meeting—Tom was there.
Read More
"I first met Tom in early 2006 within a year of my arrival at High Desert," said Reg Rider, current President of the Board. "I served with Tom from 2007 to 2012 as a board member and board president. Tom was completely dedicated to ensuring that High Desert was the best in Albuquerque in everything we did. He was the Treasurer, set up the Run for the Hills race event annually, was an advocate for a multitude of resident activities and knew the High Desert covenants and bylaws in detail. I learned a lot from Tom and have always respected his opinion. He will be missed by High Desert."
Jay met Tom in 2000 when both were members of what at that time was a very small group of Voting Members that met monthly. "I didn't know until Tom, Ray Berg and I were elected to the Board in 2004 that we had all been at Purdue University at the same time some 40 years earlier," recalled Jay, "although none of us knew the others. A small world indeed."
Ray Berg, current Board Treasurer, added, "All of us had a history with Purdue University, so we were referred to as the Purdue Mafia." As members of the first homeowner-controlled board, the responsibility weighed heavily on members to get it right.
"Although the developer left the Association in excellent financial condition," Ray said, "we had to devise our own procedures since the developer didn't want to bias the board. So Tom had to come up with processes to manage all of the finances. We have continued to be in excellent financial health due in large part to Tom's influence."
"I guess that the one thing that impressed me most over the years," said Jay, "was Tom's unwavering commitment to the well-being of the High Desert community and to the preservation of the ideals upon which it was founded. In that regard, he had no equals."
Voting Member Chair Harrison Jones agreed. He observed Tom in action when he first attended a Voting Member meeting in 2015. "Tom's intelligence, thoughtfulness and dedication to all things High Desert were abundantly clear," he recalled. "His concern and personal advice regarding the relationship between Voting Members and the Board was a major factor in my decision to seek the Voting Member chairmanship. Tom was always ready to listen and share his experience and perspective. All of us will miss him."
Clay Wright, past president of the Board, worked for several years with Tom. "His dedication to our community is unquestioned," he said. "I cannot begin to calculate the hours of time he donated in the service of High Desert. He did so with no interest in accolade or recompense. Our community's thoughtful stewardship was his single focus. I will deeply miss my friend."
Lynn Claffy, current Contracts Chair, first met Tom in 2000 at a block party in Solterra. "The woman who hosted the party had an electric range that literally would not boil the large pot of water to cook the shrimp being served," Lynn said. "The woman knew that my husband and I had a gas stove, so Tom carried the ten-gallon pot of water filled with tons of raw shrimp down to our house to cook the meal."
Lynn remembers Tom as a close friend. "He was someone who was always there no matter what," she said. "When I was laid off after 35 years, he coached me on how to become a consultant in my field. My birthday is New Year's Eve. Tom and his wife Margo have prepared a delicious dinner for me and whomever I want to invite as guests for the last 15 years. When my husband was scheduled for surgery last summer, he drove us to the hospital. Tom will be missed by so many."
David Bentley, former Vice President of the Board, recalled his time with Tom. "Working with Tom was a learning experience for me because I had no experience as a member of a board of directors for a homeowners association," Dave said. "Tom immediately took me under his wing and helped me to learn the ropes. I was amazed with the wealth of information he had about how the Board of Directors functioned and situations ranging from a welcoming party for new residents to handling legal issues in court cases. Tom knew all the rules and regulations and was very adamant that following these was a necessity. He devoted a huge number of hours each day to this end and consulted with me by telephone at all hours including early mornings, late evenings, and mealtimes! I was always uncomfortable when Tom would vacation away from Albuquerque because I knew I could not fill his shoes. I am proud that Tom and I became very close friends."
Susan Camp, Communications Co-Chair, remembered that Tom never avoided unpopular issues "Tom was usually the first one to step up when Voting Members brought up sensitive issues," she said. "Even when he knew people would be unhappy, he didn't shy away from the discussions that needed to happen."
Russ Rhoades, former Chair of the Voting Member group, remembers first meeting Tom back in 2004 when Russ was on the Nominating Committee considering homeowners running for the Board of Directors.Tom had put his name in and Russ and the Committee interviewed him and put Tom's name on the slate. "Tom's heart was always in the right place," Russ recalled. "He always tried to serve the best interests of the High Desert community and the association."
Dr. Janet Brierley, former Board Director, worked for several years with Tom. "When I joined the Board, Tom was already something of a legend in High Desert," she said. "He had been working for the community for years and had a wealth of knowledge. As Board President, he patiently explained the background of ongoing issues and used his historical knowledge of the community to give measured and thoughtful opinions in Board meetings. As Treasurer, he streamlined the reports, making them concise and easily understood, and completely overhauled the method of calculating reserve funds. The residents of High Desert will benefit from Tom's hard work for years to come."
In 2014 Tom was asked in an interview with the Apache Plume why he continued to remain so involved with the association. "I will continue to volunteer as long as my contribution is wanted and valued," he said. "There have been some challenging moments over the years, but I have tried to make a positive difference for High Desert."

This article first appeared in Apache Plume, August 2021.
---