High Desert Demonstration Garden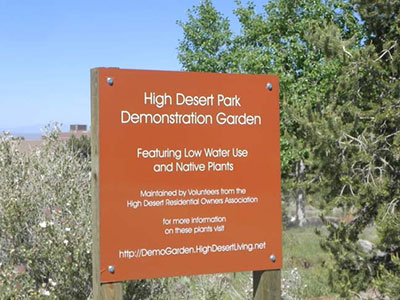 Welcome to Our Own Demonstration Garden
The High Desert Demonstration Garden is located on ¾ of an acre at the High Desert Park on Academy. The Park is maintained by the City of Albuquerque, but the long-neglected Demonstration Garden has been finally reclaimed by High Desert volunteers working under High Desert homeowner Ray Berg (shown in photo at right).

The city pays for water and has donated about two dozen small plant identification signs. The original irrigation lines and pathways were built by High Desert's developer to highlight low-water use, native and other permitted plants for High Desert homeowners in 2001. The park was then turned over to the city but, due to budget restrictions, it was neglected. The garden rapidly became heavily overgrown with Apache plume and chamisa over the next decade, obscuring the paths and choking out plants.
Read More
In August of 2010, Ray discovered blueprints of the garden and he and other residents became determined to resurrect the area as a place for residents to see living examples of plants found on the High Desert Permitted Plants list. Most of the original irrigation remained in place despite neglect, and the city agreed to begin watering the area again once the lines were repaired.


The Association, through the Board, allocated limited funds in 2011 for repairing the irrigation lines and purchasing plants and fencing. But all the labor involved in clearing and removing brush, restoring paths, pruning, repairing irrigation lines and putting up fencing has come from High Desert volunteers working weekends and evenings over the past two years. Ray estimates that High Desert volunteers have put in more than 400 hours of work since August 2010.

The High Desert Demonstration Garden is located just south of the High Desert Park parking lot. The white fence highlights the garden's east boundary and points the way to the main paths.

An ongoing project at the Demonstration Garden involves accurate identification of existing plants in order that signs (see photo at left) can be provided by the city. Volunteers will order and install new plants on an on-going basis to provide a well-rounded example of both native specifies and low water plants listed on the Permitted Plants List for High Desert. "The Permitted Plants List is not just made up of native plants," said Ray. "It also includes a number of plants that are low-water use and that do very well here in a high desert environment."

Homeowners interested in volunteering for any job at the Demonstration Garden should email Ray at rsberg01@comcast.net. He will contact volunteers and arrange for tools, instructions and meeting times. "We don't require that volunteers help out on every project," Ray said. ". We need lots of people for lots of different jobs so that we can get this project up and running." High Desert volunteers Barbara and Dan Balik are shown in the Demonstration Garden above as they work on smoothing paths.
References
1. The Utah State University Cooperative Extension, extension.usu.edu/range

2. Xeriscaping: The Complete How-To Guide, Albuquerque Bernalillo County Water Utility Authority booklet

3. Albuquerque Master Gardeners, www.abqmastergardeners.org/ (source of information about growing things in our very different environment)

4. Dirt Doctor, www.dirtdoctor.com/ (an organic gardener's website)
Read More
5. Ed Gilman Tree Fact Sheets, hort.ufl.edu/woody/index.shtml (University of Florida website with the latest tree information including planting and pruning)

6. ISA on Trees, www.treesaregood.com/ (International Society of Arboriculture)

7. National Arbor Day Foundation site, www.arborday.org/trees/ninethings.cfm (Note: do not use their tree recommendationa because they are written for the eastern United States)

8. Down to Earth: A Gardener's Guide to the Albuquerque Area, written and published by Albuquerque Extension Area Master Gardeners (the only book written specifically for Albuquerque including a lengthy resource section)

9. New Mexico Gardener's Guide, Judith Phillips, Cool Springs Press, January 2005.
---